The Work of Maṭlaʻu'l-Fecr by Salahuddin Ushshaqi (Salahi) As an Example of The First Regā'ibiyya in Ottoman Literature
Keywords:
Salahi, Ottoman literature, 18th century, Maṭlaʻu'l-fecr, Rega'ibiyya
Abstract
This paper presents the work of Maṭlaʻu'l-fecr by a famous Ottoman poet of the 18th century, Sheikh Abdullah Salahuddin Ushshaqi - Salahi. The work is of enormous importance for the entire Ottoman literature since it is the first poetic work that thematizes the conception of the Prophet of Islam. Thus, this is the first Rega'ibiyya written and composed for the purpose of performing at religious ceremonies on the occasion of Laylatur-regaib, the blessed night of the first Thursday in the month of Rajab. According to Islamic tradition, that night the Prophet's mother Amina conceived Muhammad. Although this type of poetry is not as frequent in Ottoman literature as the Mawlid and Miʻrajiyya, its importance should not be neglected. It is particularly significant that the first Rega'ibiyya in the history of Ottoman literature was written by Salahuddin Ushshaqi, a poet of Bosnian descent. Therefore, in the continuance of the paper, general information about the author, his life and work is offered, and after the basic characteristics of Salahi's Rega'ibiyya, an integral translation of the Mathnawi Maṭlaʻu'l-fecr is presented. The translation itself is accompanied by additional explanations and interpretations of certain terms or verses.
Downloads
Download data is not yet available.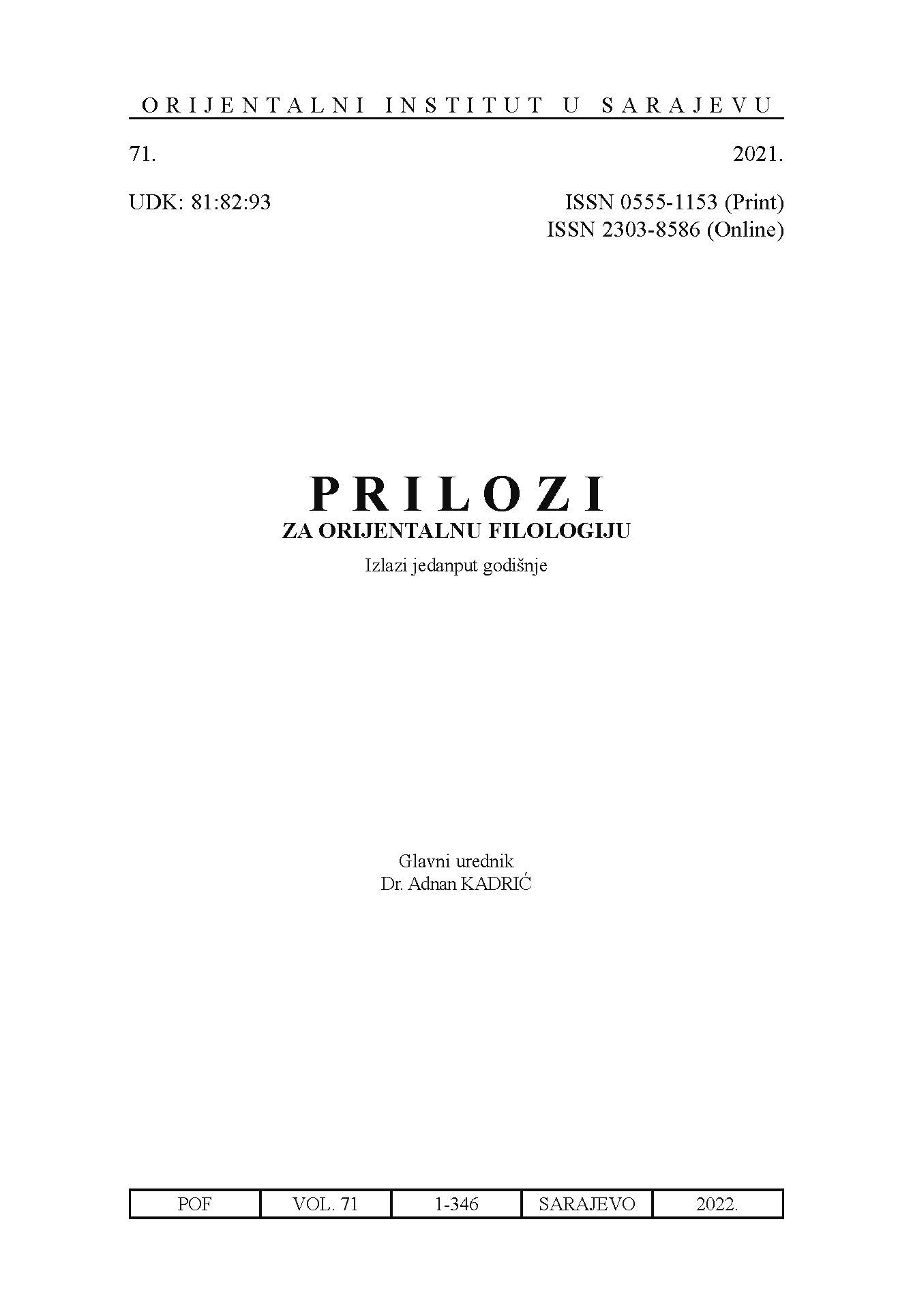 Downloads
How to Cite
Seljaci, E. . (2022). The Work of Maṭlaʻu'l-Fecr by Salahuddin Ushshaqi (Salahi) As an Example of The First Regā'ibiyya in Ottoman Literature. Prilozi Za Orijentalnu Filologiju, 71(71), 103–133. https://doi.org/10.48116/issn.2303-8586.2021.71.103